Online Tahoe Landscape Architecture and Design Services in Reno, NV, and Throughout the Lake Tahoe Region
For an Outdoor Living Lifestyle, Our Simple and Affordable Online Landscape Design Process Will Work for You!
Tahoe Landscape Architecture is the premier online landscape architecture and design company in Reno, NV, and throughout the Lake Tahoe region. Our team of professional landscape architects, designers and horticulturalists have over 20 years of experience transforming landscapes.
Landscape architecture and design involves planning, design, and sustainability of natural environments, including the functional layout of the outdoor space, to planting, irrigation and hardscape. Our online landscape packages offer back yard, front yard, full yard or a complete outdoor comprehensive design for your property. We have additional landscaping and gardening services to assist in completing your unique outdoor project.
Whether your vision includes large-scale plantings and trees, sod and turf installation, water features, walkways, pools, built-in seating, and retaining walls, or any other landscaping features, our landscape architects, designers and project managers will pull it all together in a way that aligns with your needs while enhancing the community we all love. Tahoe Landscape Architecture offers expertise in lush mountainscapes, high desert and all diverse landscapes in between. With our years of experience, we work efficiently, communicate effectively, and deliver your results on time and often beyond your expectations. Choose the right package for your outdoor space and get started today!
Imagine your outdoor living garden and landscape becoming a reality. Contact our firm today to get started.
Listen In on What Our Clients Have to Say
We're proud to know our clients love our innovative solutions, attention to detail, and professional service. Read more about what they have to say about their experience with Tahoe Landscape Architecture and Design
"Thank you so much for your design and help for our landscaping project. It truly was transformative!"
"Thank you so much, the flowers were amazing! They were perfect and exactly what I wanted"
"Enjoying the garden and the fall. I love the fixtures."
Why Choose Our Landscape
Architects and Designers
We are taking landscape architecture and design to the next level to create a more beautiful, sustainable, and livable outdoor living lifestyle in Reno, Nevada, Lake Tahoe, Sparks, Carson City, Incline Village, Zephyr Cove, Truckee, Tahoe City, and other communities in the Northern Nevada and Northern California area. When you work with Tahoe Landscape Architecture, you enjoy friendly, fun, professional service backed by over 20 years of landscaping experience. Our landscape architects and designers collaborate with the Tahoe Regional Planning Agency, local HOA's, other governing agencies and organizations to create one-of-a-kind outdoor spaces that bring people and communities together.
We respond to all client inquiries within 24 hours, and we will have your design package ready in 2-4 weeks with an additional week for project revisions (some exceptions may apply). We offer weekly check-ins to keep you posted on the progress of your project, so you are always up to date. Tahoe Landscape Architecture maintains positive partnerships with supporting industry professionals and local companies who may be involved in the project. Our team is ready to assist you with any additional service offerings listed to provide you with exactly what you need for a successful landscape design and installation.
As an Online Landscape Design company, we are just a click away from top-notch professional service.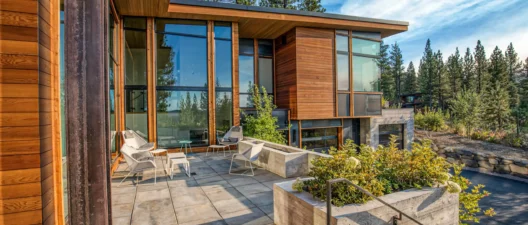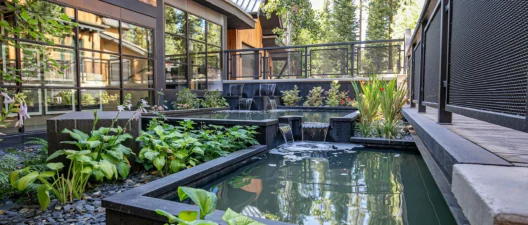 A Peek at our Landscape Designs and 3D Images
Visit our Photo Gallery, where you will see a variety of landscape architecture projects, each one thoughtfully completed in alignment with its owner's vision for a unique and innovative outdoor space.
Bring Your Landscape to Life Through Our Professional Online Design Process
Our dedicated design studio has the expertise and professional partnerships in place to provide our clients with an affordable and creative online landscape design experience. We have streamlined service, regular updates and on-time delivery. This is how we do it:
Find the Right Package for Your Outdoor Space:
Once your landscape design is complete, your landscape designer will partner you with a licensed and reliable landscape contractor for the construction of your outdoor living space. We work with professional landscape construction companies, plant nurseries and top-of-the-line builders located within your area, who you can trust.
Online Landscape Design Questions and Answers
We'll help you know what to expect during your landscape journey.
Our fun and easy online landscape design process will work for you!
Choose and purchase one of our affordable landscape design packages. Review the additional and add-on services to see if they are right for your outdoor project. Determine the area/size of your landscaping project. Create a client profile and then schedule an appointment with a creative professional landscape designer.
TRANSFORM YOUR LANDSCAPE
With Skilled Landscape Design and Architecture
Our reputable landscape architecture firm in the Reno, NV - Lake Tahoe area specializes in residential landscape architecture and design. Bring your outdoor living and landscape vision to reality through our creative and simple online landscape design processes and services.
Landscape Architecture

Our landscape architecture and planning services will improve the efficiency and value of your land and property. We have extensive knowledge in community regulations and requirements for the Reno, Nevada - Lake Tahoe area giving us the inside edge for a successful landscape project.

Landscape Design

No two landscapes are alike, which is why we offer landscape design packages at an affordable price that will meet your property's needs. Our team of expert designers and horticulturalists will consider your existing architecture, unique landscape features, and personal preferences to expand your vision and create a landscape design that's beautiful, functional, sustainable, and uniquely yours.

Landscape Contractor Partnership

Tahoe Landscape Architecture partner program will connect you and your project with a locally licensed professional landscape contractor to construct and build your landscaping project as it was envisioned and designed.
truckee
Truckee, CA
incline village
Incline Village, NV
reno
Reno, NV
sparks
Sparks, NV
carson city
Carson City, NV
tahoe city
Tahoe City, CA
Designing Superior Landscapes in Reno, NV
and the Entire Lake Tahoe Area
Our landscape design services are available to
residents in the following communities:
 
Reno, NV
Sparks, NV
Carson City, NV
Incline Village, NV
Zephyr Cove, NV
Truckee, CA
Tahoe City, CA
Apply to Our Company and Make Your Mark
in Professional Online Landscape Architecture and Design Services
Are you creative and passionate about working with people, plants and the environment? Do you enjoy a creative work environment with endless personal and career opportunities, consider a career with Tahoe Landscape Architecture. When you work with us, you will be a part of a team of like-minded professionals who make work inspiring, fun and exciting. We are always looking for great people to join our team. Contact us today!
Your Trusted Choice for Online Landscape Architecture and Design Services in the Reno, NV and Lake Tahoe Area
We are committed to delivering outstanding results with superior customer service. Have a landscape project in mind? Choose a landscape design package that is right for your outdoor living space. To get started contact our team of professionals today.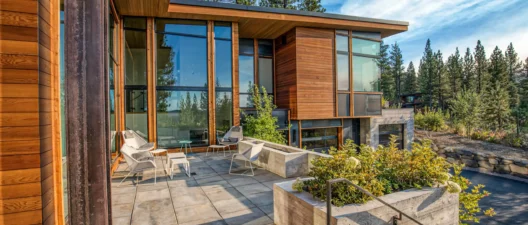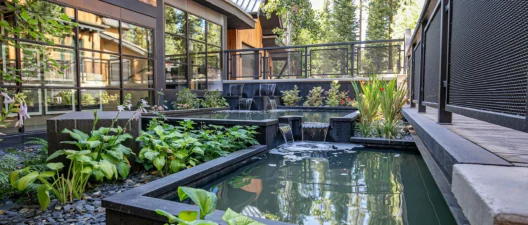 It's Time To Manifest Your Landscape Dreams